Do you still have a question?
How much of the money collected from an event or promotion reach the organisations being represented?
ONE OFF TRADE PROMOTION
The fee received may vary from 50-70% depending on the product & service delivered. Adflex receives a Marketing Fee from the client on products sold. Adflex will in turn pay a majority of that fee to Marketing Companies to engage sales people to sell that product on behalf of the client.
ONGOING LOTTERY
Most of the organisations we represent work in the same way as a commercial company, with marketing budgets set aside each year.
The organisations pays a ONE-OFF FEE per customer acquired from a pre-allocated budget. They do not pay any additional fees, no matter how long the customer continues to support.
As this fee is from existing funds, 100% of all funds from customers go directly to the client.
In addition, if the customer cancels before the first payment, 100% of that fee is refunded to the client.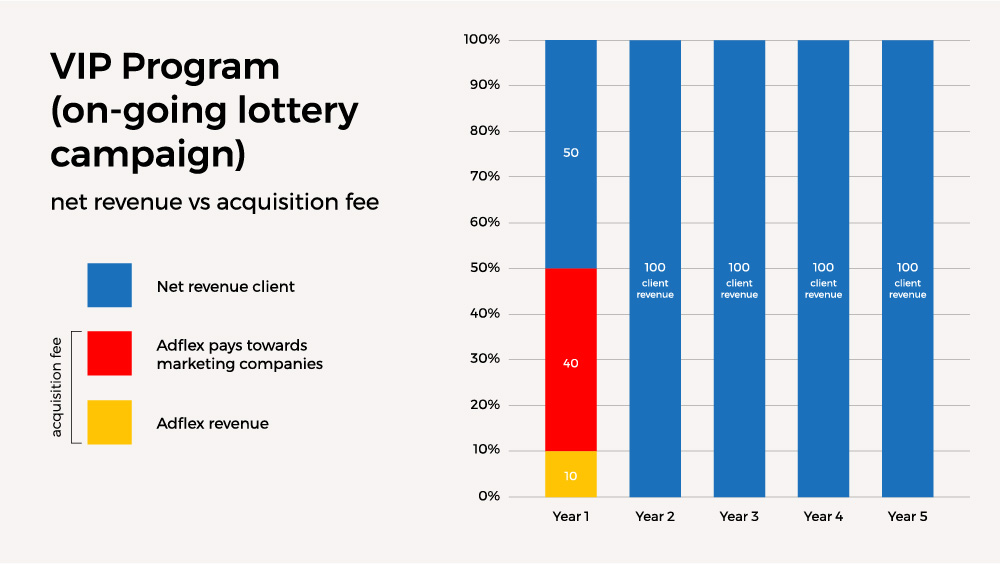 What different products are sold on behalf of clients at Adflex Marketing?
The Managing director group has had experience in all aspects of direct sales in the past two decades. Whatever product you have to sell or promote our business development team can put together a campaign and achieve any goal.
Products being sold are On Going lotteries and ongoing trade promotions, one off gift and win. Adflex also markets one off lotteries and/or one off Trade promotions like a pin and win.
Why does Adflex Marketing outsource the sales to external marketing companies?
Adflex engages experts in the sales and marketing industry who have specific skills in exact products and routes to market. Over the past two decades the Directors of many individual marketing companies have worked closely together to achieve amazing results for clients.
Do the Marketing Companies get product training?
Yes via the clients we engage the Marketing Companies receive comprehensive product and compliance training.
What does Adflex Marketing do with customer complaints?
Any complaint by the public levied to the client or to us, will be investigated immediately, and a response of the outcome will be delivered back to the client within 24-48 hours.
How do we market client products?
We believe that people still respond best to people and this belief is at the very heart of our business. We talk directly to people at events, in business and at their homes face to face. We create connections with them and leave a valuable and lasting impression of the charities & sporting clubs
What Regulatory bodies do you fall under?
There are many organisations within the fundraising sector who ensure high standards are administered, enforced and maintained. Adflex follows all laws and policy's within each regulatory body. Adflex is also a member of the Fia Professional Fundraising.
What is the Australian Competition and Consumer Commission (ACCC)
The ACCC promotes competition and fair trade in markets to benefit consumers, businesses, and the community. Their primary responsibility is to ensure that individuals and businesses comply with Australian competition, fair trading, and consumer protection laws – in particular the Competition and Consumer Act 2010.
State Regulatory Bodies for Consumer Affairs
Consumer protection is governed by state and territory laws (in the form of a Fair-Trading Act in most cases). Australian federal and state laws protect you, your business and your customers from unfair trading practices. These laws, together with industry codes of practice, help your business operate fairly and competitively, and make sure your customers are properly informed and protected.
What is the customer recruitment process?
Client – Supplier – Marketing Company – Independent Contractor – Customer
The organisations and the supplier agree on campaign requirements such as budgets, timescale, areas and materials.
The supplier then liaises with the organisations to setup the campaign and provide ongoing services, such as:
account management
administration
processing
customer services
stock and territory management
quality assurance
helpline and welcome calls
licensing
The Marketing Company is sub-contracted by the supplier.
The Marketing Company engages Independent Contractors to supply the sales and marketing services.
The Marketing Company makes available a variety of product meetings, seminars and workshops in which Independent Contractors can register to attend.
Independent Contractors also have an opportunity to network with 'like-minded' Independent Contractors whilst developing their business.
Face-to-face marketing is one of the most effective ways of generating regular, long-term revenue ensuring the best return on investment for the represented organisations.